How to Develop Your Custom Kitchen Design
Custom kitchen design requires the development of many details in several areas to be able to create the plans for your custom kitchen. Being able to create a custom kitchen design can be a very challenging task. It is important to satisfy the needs for the style of the kitchen, as well as cooking, dining, socialising and your budget. This can be a very tall order when it comes to being able to design a beautiful kitchen where many hours are spent creating delicious meals, that can combine aesthetic beauty and function, and that will inspire compliments and serve as the focal point of your home.
Renovating a kitchen usually starts with a design for convenience, organisation and functionality. Many people want to change the look of their kitchen by developing great kitchen decorating ideas and also find ways to create a new feel for their kitchens and provide an atmosphere that they can be comfortable in and create a kitchen in an efficient and organised way.
As to where to begin, well you might want to start be browsing and saving ideas you may come across in magazines, online sources, the library and other resources. After you have put together enough design ideas you can start to plan your custom kitchen design. Good kitchen design depends on knowing about the latest trends in kitchen design.
There are many things to consider when you are planning your custom kitchen design. Among them are the areas of the kitchen to be used for storage. These areas include the pantry, cabinets, drawers, shelving, and pot racks and rails.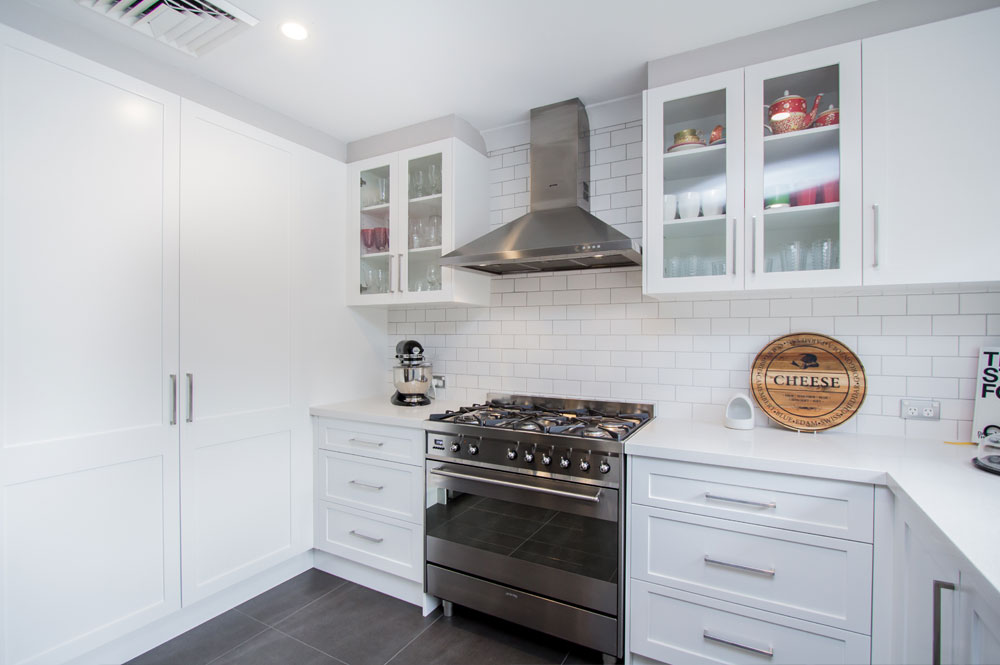 Kitchen Countertop Materials
Other areas to look at include kitchen countertop materials. Should you use marble or granite? These are the most expensive materials for kitchen countertops, although it is the most attractive. Other countertop materials are Corian, which is more affordable than marble and granite and has a seamless design that looks clean. Stock laminates make up the most affordable kitchen countertop material, although it is not seamless and the seams can catch dirt. Ceramic tile is best if it is used on the walls between the countertops and cabinets – the backsplash area. This is a better place for the use of ceramic tile because it will not get as dirty, particularly the grout area.
Kitchen Lighting Design
The right kitchen lighting design is important in that the kitchen serves as the hub of the home and provides a good place for family gatherings as well as a place to cook and prepare meals. There are many different light sources that can be used in most kitchens. These include pendant lighting, track lighting and recessed lighting as well as ceiling elements with dimming controls that can be arranged.
Task lighting is available in many different shapes and colours and they have a lot of flexibility. You can place separate lighting over the stove, sink, island and other work surfaces
Under the cabinet lighting should be considered in the kitchen as well. Use them to illuminate countertops.
Kitchen Appliances
Remodelling your kitchen provides a good time to evaluate your old kitchen appliances. You can consider new appliances that include a professional grade.
New Electrical Outlets
Consider adding more electrical outlets just in case you might need them in the future. This should include adding outlets to a kitchen island.
Kitchen Flooring Choices
Ceramic tile is both durable and attractive, but make sure the grout is sealed well so spills and traffic don't ruin the clean look. Hardwood flooring can really express your style but require some maintenance. Laminate wood flooring is a less expensive than hardwood flooring, and it can provide both looks and durability. Vinyl is the most affordable choice in kitchen flooring, is easy to maintain and is available in hundreds of patterns, styles and colours
Now is the time to begin to plan your custom kitchen. You should immediately establish a budget before you actually have the plans drawn. Without having done this kind of planning, you may have some unexpected and unwanted surprises in creating your new kitchen design. Your goal during the budget process is to spend your money on what is important to you and that is how the perfect custom kitchen is created.
You will find that there are all kinds of help available to you. For instance, there are also many types of kitchen design software programs that are being used by kitchen professionals that you can also use to help you with developing your custom kitchen design.
Looking for a trusted kitchen designer in Kellyville? Contact Kellyville Kitchens today!