Click Here to Get a Free Quote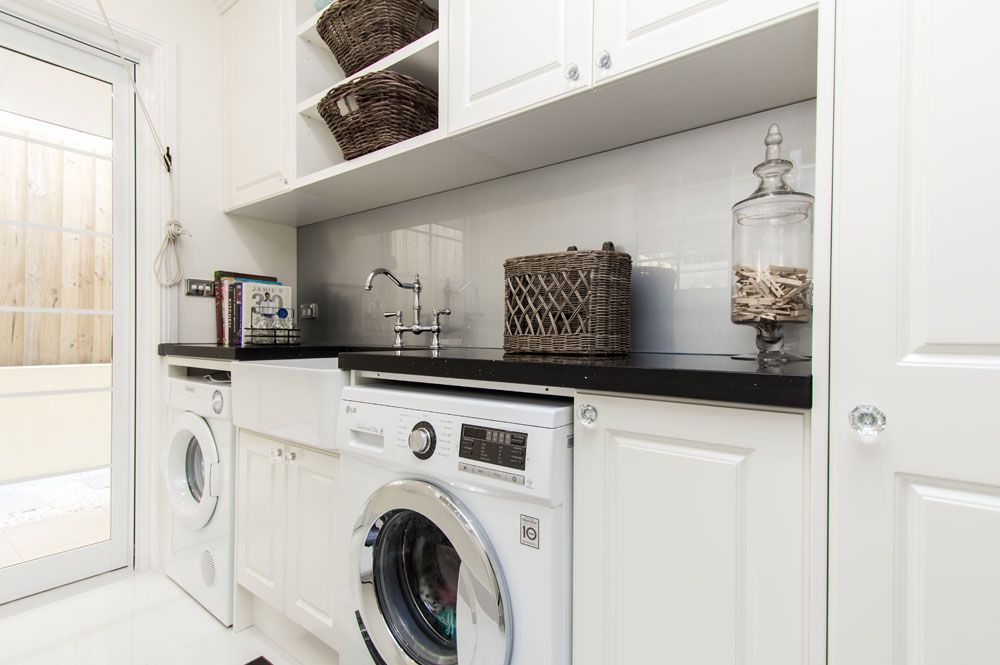 Laundry Design Sydney can create efficient, ergonomic and functional laundry room renovations that match your style while offering the latest accessories, so you look forward to doing laundry.
Kellyville Kitchens go through a systematic approach when designing your new laundry. Your laundry begins with our full design and advisory service. We work with you to understand your needs and objectives. From this information we design the best laundry for your particular situation.
We will then project manage the installation of your new laundry for you as quickly as possible, with a minimum of disruption. Our team of experienced laundry installers guarantee quality workmanship.
Why choose us?
We can create the perfect laundry for you home, maximizing the usage of your available space.
We focus on function, comfort, style and storage space.
We have access to a wide range of fixtures and fittings.
We can also help you source a range of appliances at wholesale prices.
A dedicated laundry designer to reimagine your space
No matter how extravagant or simple your laundry design might be, our team is excited to bring it to life. We specialise in laundry makeovers of all shapes and sizes, taking your inspiration and channelling it into a beautiful, functional laundry that you'll be able to enjoy for years to come. Incorporate a laundry makeover as part of your kitchen renovation, and we'll develop a consistent theme that enables your designs to work together seamlessly.
If your home improvement ideas extend beyond the laundry room, Kellyville Kitchens can also help you redesign the rest of your home. Whether it's a home office design, a bathroom renovation or a kitchen renovation, we'll help you with every phase of your remodel; from the designing and planning to the execution.
FAQs
A laundry fit-out doesn't need to be enormous to have an enormous impact on your life. Even if your current laundry room is cosy or is limited to being hidden behind a laundry cupboard, our team of expert interior designers and architects can help you reimagine the space more functionally. Custom wardrobes and storage, redesigned floor plans and modern details can make a laundry feel far more usable and spacious.
We sure do. We understand that a home renovation can be stressful and require a lot of planning from conception to adding the finishing touches on the build. That's why we'll manage your entire laundry makeover, from translating your inspiration to overseeing the laundry installation process. Throughout the process, we'll be a single point of contact to keep you updated on your laundry renovation's progress without any added stress.
As a family-owned business with years of experience in the business, we understand what matters most to you about your laundry renovation. From understanding your laundry designs and working within your budget to managing various elements of the project, including tradespeople, fixtures and issues that arise along the way, we'll handle it all.
Our team have been working to makeover laundries in Sydney for decades, and we understand what works practically and what designs will last the best, adding value to your home for years to come. For a reliable laundry renovation with results you'll love, look no further than Kellyville Kitchens.