Benefits of an Outdoor Kitchen
More homeowners are now planning built and remodelled to include outdoor living spaces. Most of them include an outdoor kitchen. It can take your cooking, entertaining and lifestyle to a whole new level, and includes various advantages, such as: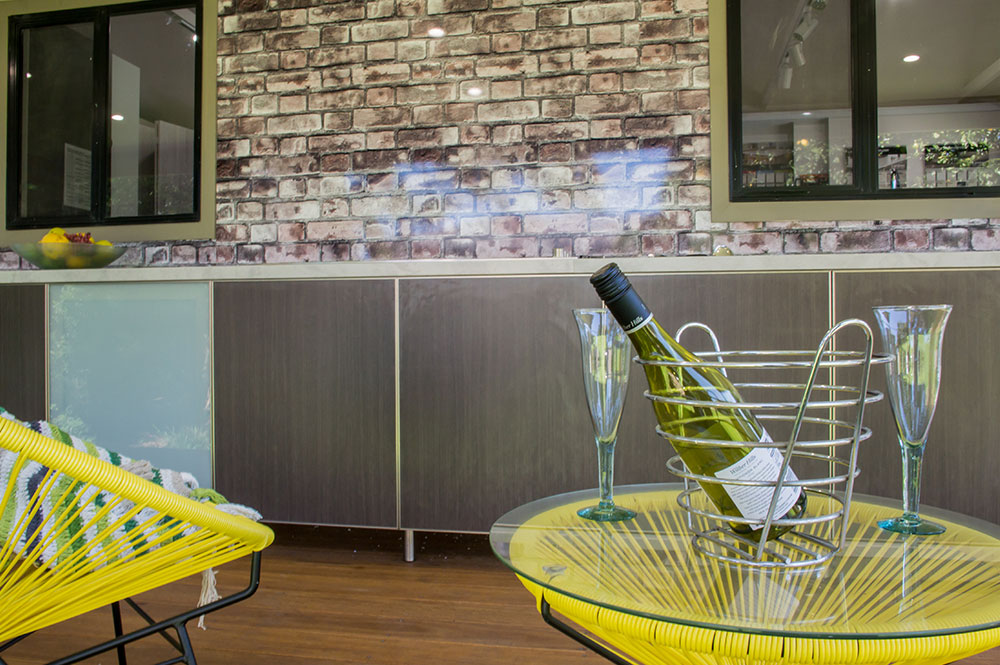 It makes grilling a family activity – No longer does Dad have to sweat outside by the grill while everyone else is inside waiting for dinner. With an outdoor kitchen, the entire family can be part of the meal-making process. Mom and the kids are making the salad and side dishes next to Dad, not inside the house. The conversation takes off before your family has sat down to dinner.
Outdoor kitchens make entertaining much easier – Having an outdoor kitchen to your home can make your food preparing much easier. You don't have to make trips just to get drinks and food for your guests – everything you need for outdoor dining is right there. You can feed your guests without interrupting your conversations and if you need to make any last minute dishes, like an extra salad or appetizer, you don't have to go inside and miss out on the fun while doing it.
Enhances your resale value – Outdoor kitchens is one of the hottest trends in home design. An outdoor kitchen will raise your property value if you are planning to sell your house. Not only will your house look modern and updated, but the extra "room" outdoors will appeal to buyers.
It gets you outside – Let's face it; sometimes it can be hard to split the family away from the computer, television and air conditioning. Outdoor dining enables you to turn the everyday occurrence of making dinner into something impressive. You can turn on some music, light a few candles and enjoy the sun and fresh air. Without any extra hassle, dinner has become a special event.
It can be a second kitchen – Since most outdoor kitchens include a grill, sink and mini refrigerator, it will come in handy in the event that your main kitchen is out of commission. Outdoor kitchens can help you get through a plumbing emergency (if you have an electric stove in the main kitchen) and a kitchen remodel. If the main kitchen is a mess of epic proportions and you just can't face cleaning it before dinner, break out the paper plates and napkins and head outside.
You can "remodel" without having to spend a ton of money – If you want to update your home but don't have thousands of dollars to do so, an outdoor kitchen could be the solution. It allows you to add on a new "room" to your house, enhance your living space and pick out new kitchen cabinets, furniture, appliances and accessories, just on a smaller measure than if you were to remodel your main kitchen. You can get your kitchen design fix without having to actually live through a kitchen remodel.
It can enhance your social life – Having an outdoor kitchen can help enhance your social life in several ways. First, it will give you a good excuse to call your friends over for dinner. You'll want to show off your new kitchen, and everybody loves checking out new home improvements. Secondly, you'll see more of your neighbours. If they're outside grilling too, it's the perfect opportunity for some over-the-fence chit-chat.
Before you decide to start your outdoor kitchen design, there is one main thing you should consider: Will you use it enough? If you're the type of person that only pulls the grill out a few times a year – versus the person who pretty much doesn't use the kitchen once grilling season hits, an outdoor kitchen might not be worth the extra money. But if you and your family grill often enjoy outdoor dining, then an outdoor kitchen is a great addition to your home.
Looking for the best kitchen designer in Kellyville that specialises in outdoor kitchens? Contact Kellyville Kitchens today for a free quote and consultation!