Kitchen Installers Sydney NSW
Stop cramming your entire cutlery into one drawer in the hopes that when you shut it no one will be able to see the mess. This only results in clutter and makes cooking an unpleasant experience. When you need a specific knife or a plate, you can never find it. No, you do not need to chuck any more articles in order to make more space. You need to create more storage area and it is about time you do that.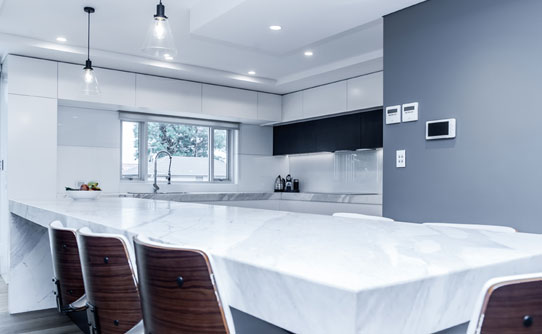 Get Your Kitchen Installation Done By the Best
It can be overwhelming to choose the right kitchen installers in Sydney NSW for you. There are a number of fraudulent companies out there who provide no guarantee with their service and who knows, what kind of hardware material. Pick us at Kellyville Kitchens to have a hassle free and enjoyable experience. Just because we are one of the most reputed kitchen designers in Sydney with multiple small business awards in our name, we will not charge you an exorbitant amount to get your dream modular kitchen.
Our Comprehensive Kitchen Installation Service
We have a team of skilled kitchen installers in Sydney NSW who will completely transform your kitchen. From gas and electrics, lighting and flooring – we will take care of it all. So you only need to contact us and so forth, just relax and enjoy it all. From the designing phase to the finishing touches, we will constantly be at your service. Customer satisfaction is our first priority and we give each and every client equal and undivided importance. For us, making sure that the installation process does not come in between your daily life, prior to starting any work we will discuss the timings and the date which is most suitable to your schedule. Choose us for an all round kitchen installation to have your dream kitchen that is perfect for you.